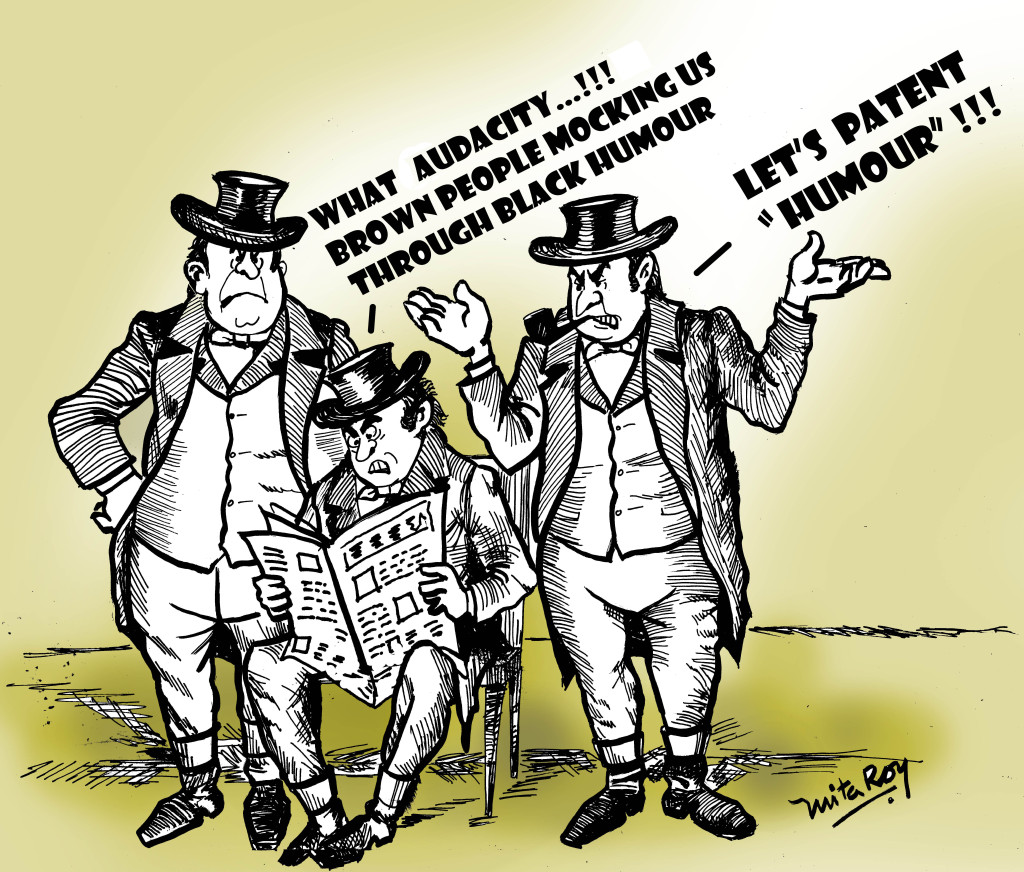 – After Ritu Khanduri, With apologies
Laughter is social glue—
When it escapes
the blow is softened—
The Brits did not know
about Laughter Out of Place,
said They, Those brown
people, have no sense of fun,
only satire and malice—Why
can they not be happy
we've won?
Laughter is social glue—
It cements fear of those who
rule and fail to decipher dark
joke: what do you get when the
Common Man revolts and takes
back power? Emergency.
It is impossible for the white man
to leave peace in his wake.
The earth shakes. Aftershocks
for generations. There is no mithai
for women on Holi the gupt passes
from pocket to hand eyes become wide
years ago these images did not exist—
Only pictures of gods lived in the markets.
There were no vernacular cartoons
nothing was produced to inspire
letters from leaders cautioning
Your ridicule should never bite—
Laughter is social glue—
Shankar liked to paint
exaggerated lips, so many
Superior women who lost
their way in darkness the men
who run the papers smile while
making their offers. They
do not appreciate biographical work
from women: give them illustrations
for recipes and children's poems,
all that is of the home is free range
unless your name is Kamath: show
every day politics through the social
place of women. Mita Roy, too,
broke rules, destroyed boundaries—
employing skill in times of turmoil,
beginning young, so adept at her art
that those uninformed read her name
as a man's. Be defiant. Share Manjula's
beliefs and let ink stand on its own; do
not think curves dictate body-type affiliation,
do not accept the confines of a box
when they say Women do not have time
to do this kind of work do not
take 149 pages to call yourself artist
when you scribble so beautifully,
make the point stand out so clear:
This laughter is social glue—
It challenges established academic
views and makes everyone critic and
ethnographer. The fieldnotes drawn in
black ink may critique but Sacrilege is
to ridicule. Using personal interpretation
to record what is seen does not include
disrespect—a council that lets images
say more than words places value on
the politics of seeing.
Fatima-Ayan Hirsi is an anthropology senior at the University of Texas at Arlington and the founder of Dark Moon Poetry & Arts, a platform of expression for North Texas women artists. Her poetry has been featured across Texas and can be read in Vagabonds, Life in 10 Minutes, the anthology Poem Your Heart Out: Volume 1, and Writer's Digest. Her work is forthcoming in the anthologies Poems of the American Southwest, Volume 2: Persona Poems, published by Dos Gatos Press, and in the Dallas Poetry Community's Best of the Metroplex. She can often be found on the sidewalks of Dallas creating spontaneous poems for passersby on her typewriter. See her work at flowerwordspoetry.com.

Mita Roy is a pioneering Indian woman political cartoonist. She was staff cartoonist at India's leading newspapers, the Pioneer (Lucknow) and Amar Ujala (New Delhi). She is the creator of the popular pocket cartoon series "Bhaiyaji" and "Sahiba" and has several thousand political cartoons to her credit. Some of her other  cartoon columns are "Cartoonist's Eyeview" and "The week that was" (The Pioneer), "Aaeena" (Outlook), "Dakhil-Kharij" (Amar Ujala),"Achook" (Kuber Times), "Aisa Bhi Hota Hain", "Chalti Chakki", "Saurabh ji" (Swatantra Bharat) and "Mohanaa" in the children's magazine Sarang (Amar Ujala). She has also freelanced for several magazines namely Blitz, Dharmyug, Sunday Mail, 4th D Vichar Saransh, 4th D Women, Meri Sangini, Cruising Heights, Kaimoor Times. She has been felicitated with "Pride of the Nation Award" and "Matrishree Award." She did her undergraduate degree in Anthropology. Her career spans three decades. Her work has been discussed in Ritu Gairola Khanduri's Caricaturing culture in India: Cartoons, history and the modern world, Cambridge University Press, Cambridge, UK. 2016 (2014).