Technology for development projects (T4D) typically import expensive and unsustainable equipment when trying to improve a situation.  The one laptop per child project is an example of a typical T4D kind of initiative.  Although its laptops are, for the world of laptops, inexpensive, their cost is still prohibitive in the places where they are deployed. Lily Irani, et al. have an article called "Postcolonial Computing" that provides a broader discussion of some of the issues.
I take the opposite approach.  My aim is to use existing technologies in novel ways. Drawing in equal parts from design and anthropology, In May-June 2015 my research assistant Amanda Stojanov and I did a quick 10-day experiment in the village of Matènwa, Haiti.  We worked in collaboration with Lekòl Kominotè Matènwa (LKM).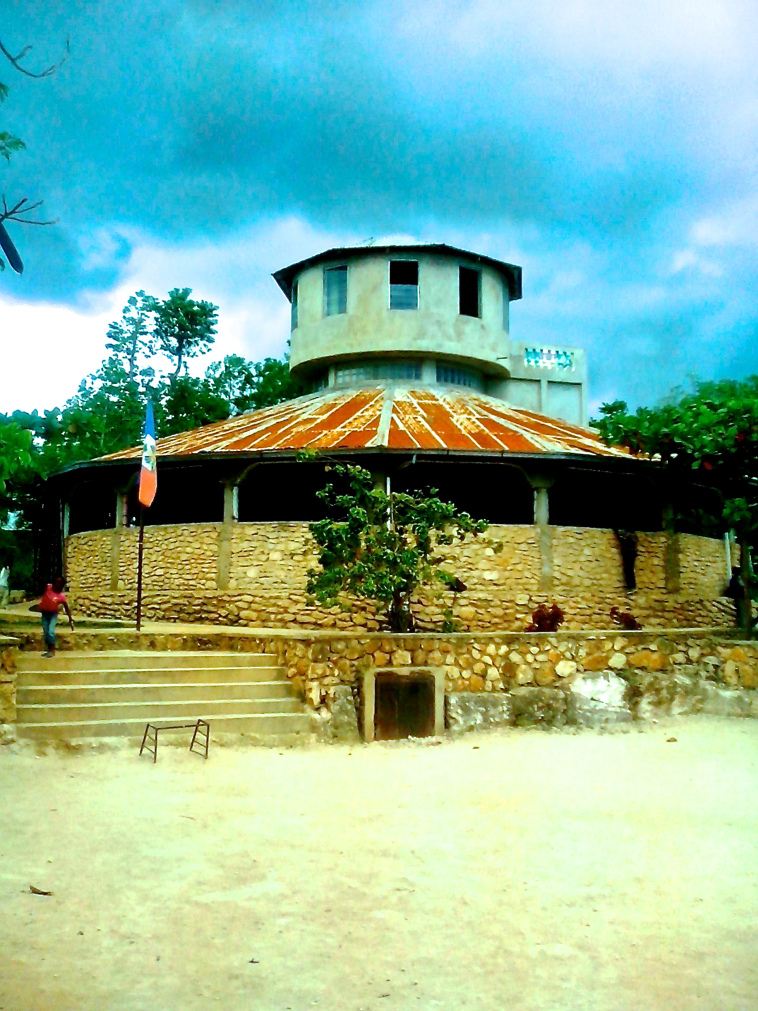 Doing Fieldwork Means Changing your Plans.
I had arrived with a general plan to use data cards and feature phones as a way to distribute school materials.  Early in our trip we spent a few days in Miragoane, and did some testing as to the capacity of phones to read files (they can't), display photos (they look great!), and play video (no problem, though screen is small).
We thought we had a workable plan.  As often happens in fieldwork, however, the minute we arrived in the village it was clear our plan was not practical.  We quickly regrouped, and saw that the school had lots and lots of small tablets, all Haitian-made.  After consulting with Abner Louima and Chris Low, we decided to try a photography workshop using the tablets.  We worked with 12 young people, and Mackanaky, a youth leader and tech whiz, was our right hand.  He picked the participants, two from each of grades 6, 7, 8,9,10,11.  We were advised to have 8 girls and 4 boys, since boys tend to dominate technology settings.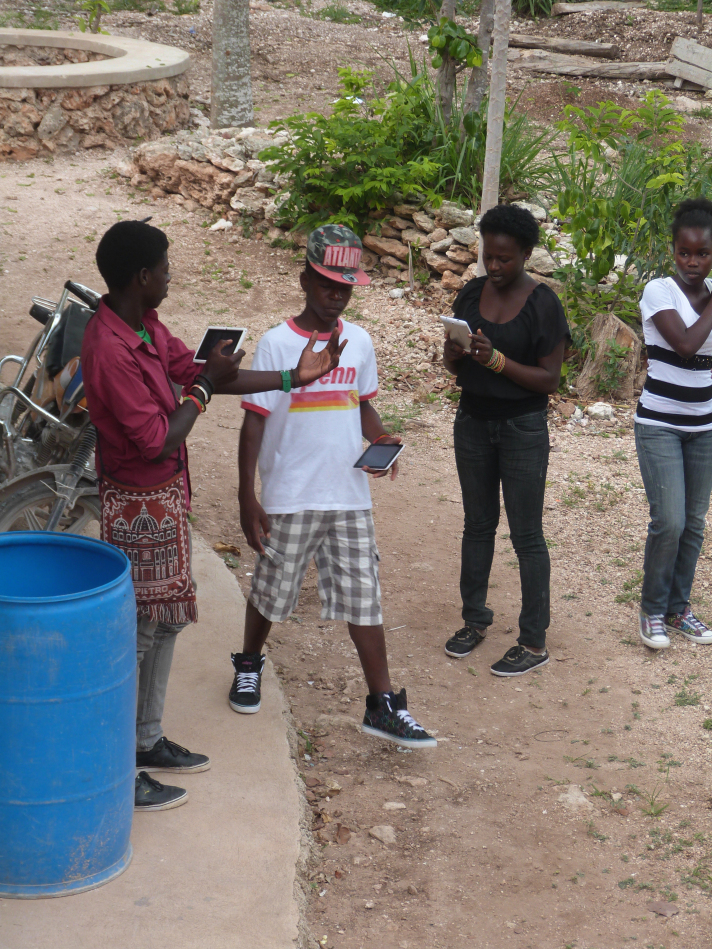 Part of the point we were making is that kids can learn photography even without cameras.  And they certainly did.  Over seven working days, we introduced participants to such concepts as framing, lighting, composition, micro/macro and point of view.  Pierre Richard was especially excited about the "micro" concept and produced several photos of his hand.
"Remember that what you are doing here is learning about technology.  It's photography, but it's technology too, and these are skills you can take with you into other areas."
– Eligène, Gardening Teacher
We also got lots of interesting photographs of feet.
Exploring the school garden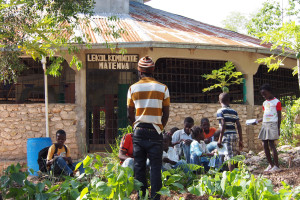 As participants gained confidence, they went out with their tablets to explore the school site.  Many gravitated to the garden.  LKM's garden is the busy hub of the school in many ways. Each class from the kinders to the oldest spends one session a week in the garden.  The week we were working, we saw a class learning about transplantation.  The school has teachers who work in and teach about the garden every day.  Students bring their notebooks, write down vocabulary, draw pictures of their observations, learn about plants, and their garden learning is connected across the curriculum.
The LKM photography students spent a lot of time in the garden taking photographs of cabbages, carrots, and other plants.  Some, like Shella and Michaela, produced still life compositions.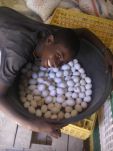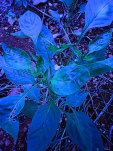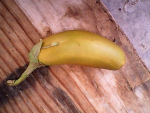 Everyone also learned how to edit photos, first on the tablets, and later on the school's Mac computers.  As youth chose their photos and continued to edit, we could see their individual artistic styles emerging.  Richamie loves strong forms and colors, and her finished portfolio emphasizes contrasts in shape and tone, focusing on plant forms.
Delkaneji has a special talent for creating beautiful compositions. He also has a knack for taking photographs of people.  He especially loves eggs, and many of his photographs were of eggs and chickens.  A new element at LKM is the chicken program, and children at the school each get an egg a day, and this is an important boost of protein in their diets.
Final Presentations
On our final day,we arranged our room so that visitors could see each person's portfolio of finished images on a Mac.  We also wanted people to see what the photographs looked like on the tablets that had been our technology platform for so much of our experience. Here, we got some help from Billy, a student at the school who also teaches woodworking. He made us some very beautiful tripods, and even chose the parts so that the piece on which the tablet rested had a groove in it that helped to hold the tablet in place.
Eligène, who teaches in the garden, was one of our visitors that day.  He had been stopping by throughout the week, giving students encouragement.  When Cathiana was writing about carrots, he sat down with her to discuss the kinds of things that carrots are good for.  It was exciting to have a teacher taking interest in what we were doing.  After the student presentations, he said to them, "Remember that what you are doing here is learning about technology.  It's photography, but it's technology too, and these are skills you can take with you into other areas."
Now back in Los Angeles, Amanda and I have been printing up each participant's portfolio.  Once they are finished, I will mail them off to Chris Low, and she will get them to the village next time someone heads over.  I am still amazed at how high quality the photos are, given that we were using tablets that cost about $140.  We were able to get a lot done in just seven working days, and I'm looking forward to returning next summer for a longer time, this time to set up an electronics lab where kids can learn circuitry and basic coding–by building sculptural decorations for motorcycles.  Because part of what we have learned, and part of what we want to share, is that art is a vibrant part of Haiti's culture, and that T4D can embrace art with fantastic results.
*This photo essay can also be found at the author's own website: elizabethjchin.com
Elizabeth Chin is an anthropologist and ethnographer whose work most often engages marginalized youth in actively addressing the conditions of their lives.  Much of her work challenges disciplinary normativities, through performative scholarship and experimental writing.  Her book My Life With Things: The Consumer Diaries will be published by Duke University Press in Spring 2016.